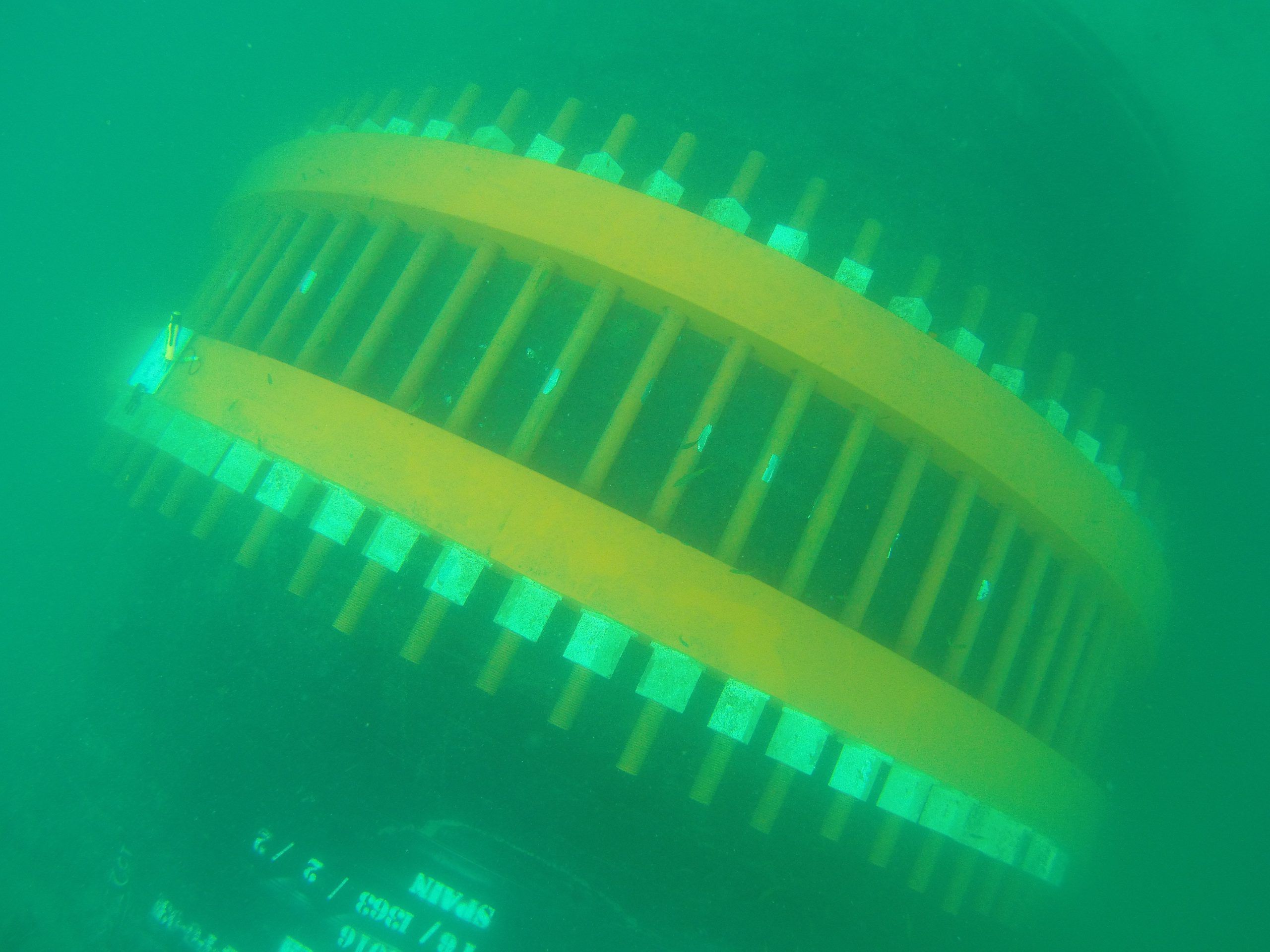 Tornillería FVRV 60413: una solución libre de corrosión
Screws FVRV 60413
Our FVRV60413 screws are the solution to the problems of corrosion and chemical attack of flanged joints subjected to corrosive environments in general. The fields of application of the FVRV60413 screws are varied. As an example we can highlight the following:
Submarine outfalls and seawater intakes for any application.
Desalination plants, thermal power plants, treatment plants and water treatment plants.
Chemical industry in general.
Any installation subjected to aggressive environments that shorten the useful life of traditional steel screws.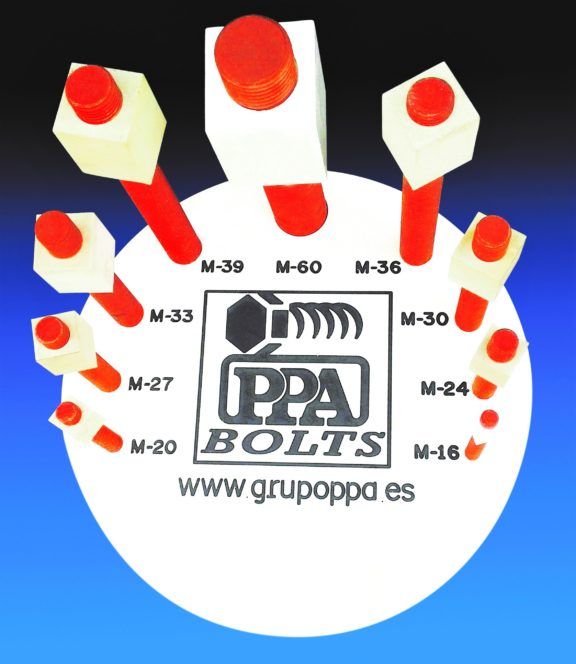 The suitability of the use of the FVRV60413 screws has been proven in numerous projects carried out by the PPA Group, becoming an element highly valued by our clients due to the guarantee of durability and the zero-maintenance required
Range of FVRV60413 bolts and nuts available
The FVRV60413 screws are supplied from M8 to M56 in the length required in each case.
The FVRV60413 nuts are generally supplied in a square shape and the washers are made of HDPE for a better tightening of the assembly.
Technical characteristics screws and nuts FVRV 60413
Depending on the type of application, the washers can be manufactured in HDPE (high-density polyethylene) or in FVRV 60413 material.
Testing method
Unit
Threaded rods
Nuts
Standard colour
–
–
Orange
White
Resin type
–
–
Epoxy
Epoxy
Mechanical properties
Density
UNE EN ISO 1183
g/cm3
1,85
1,85
Tensile strength
UNE EN ISO 527-4
MPa
370
370
Tensile strength
UNE EN ISO 14125
MPa
325
325
Flexural modulus of elasticity
UNE EN ISO 14125
MPa
20,1 x 103
20,1 x 103
Compressive strength
UNE EN ISO 14126
MPa
260
260
Impact resistance (Charpy)
UNE EN ISO 179
KJ/m2
250
250
Geometric dimensions threaded rod FVRV 60413
Standard length of the threaded rod: L=1.500 mm.
Possibility of manufacturing another type of thread on request
Guy
Core diameter, dv (mm)
Outer diameter, Dv (mm)
Length (mm)
M-8
6,6
8
Customizable on request
M-10
8,4
10
M-12
10,1
12
M-16
13,8
16
M-20
17,3
20
M-24
20,8
24
M-27
23,8
27
M-30
26,2
30
M-33
28,5
33
Geometric dimensions nut FVRV 60413
Possibility of manufacturing two types of nut: square nut and hexagonal nut.

| Tipo | Diámetro, dt (mm) | Diámetro, Dt (mm) | H (mm) | EC (mm) | DLC (mm) | DLE (mm) |
| --- | --- | --- | --- | --- | --- | --- |
| M-8 | 6,6 | 8 | 8/16 | 13 | 18,4 | 15 |
| M-10 | 8,4 | 10 | 10/20 | 17 | 24,0 | 19,6 |
| M-12 | 10,1 | 12 | 12/24 | 19 | 26,9 | 21,9 |
| M-16 | 13,8 | 16 | 16/32 | 24 | 33,9 | 27,7 |
| M-20 | 17,3 | 20 | 20/40 | 30 | 42,4 | 34,6 |
| M-24 | 20,8 | 24 | 24/48 | 36 | 50,9 | 41,6 |
| M-27 | 23,8 | 27 | 27/54 | 41 | 28,0 | 47,4 |
| M-30 | 26,2 | 30 | 30/60 | 46 | 65,0 | 53,1 |
| M-33 | 28,5 | 33 | 33/66 | 50 | 70,7 | 57,7 |